About Awara City

Awara City is located at the northern end of Fukui Prefecture and is bordered on the west by Mikuni-cho, Sakai City, on the south by Sakaicho and Maruoka-cho, Sakai City, on the northeast by Kaga City, Ishikawa Prefecture, and faces the Japan Sea on the northwest. Its area is 116.99 square meters, its geography is divided into 3 parts including the hilly terrains on the north, the flat lands on the southwest, the mountain range on the east, Kitagata Lake lies north and south, and Takeda River runs east and west. It has a comfortable metrological environment with relatively mild climate compared to other Hokuriku regions and longer daylight hours than in Tokyo between May and October. Awara City has abundant natural blessings such as the beautiful Japan Sea, tranquil lakes and rivers, lush green mountains, quality hot springs, and sunlit agricultural products.
Awara City's geographical features
History of Awara Onsen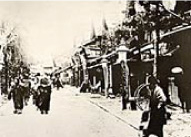 Awara Onsen opened in the 16th year of Meiji (1883).
The hot-spring spa's birth goes back to 1883 when a farmer was digging an irrigation well in a reedy, swale swamp, and 80-degree hot spring with low salt content welled up. Next year in the 17th year of Meiji (1884), several onsen hotels opened and attracted visitors for toji (hot spring cure).
Afterwards, the hot spring area grew rapidly with the openings of the Mikuni line (taken off in the 47th year of Showa (1972)) in the 44th year of Meiji (1911) and of the Keifuku Dentesu Mikuni Ashihara line (the current Echizen Tetsudo Mikunihara line)in the 3rd year of Showa (1928) but suffered severe damages due to the Fukui Earthquake in June of the 23rd year of Showa (1948) and the unprecedented great fire (Ashihara Great Fire) in April of the 31st year of Showa (1956).
However, the community's efforts to recover were realized, and many modern hotels have been built, and Awara Onsen, now known as the "Tourist spot of Kansai" and "The town of fashionable hot spring," attracts visitors from the Kansai and Chukyo area and nowadays from the Kanto area.
Quality and efficacy of Awara Onsen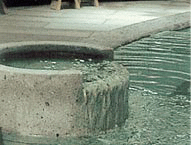 Awara Onsen does not have joint management of the hot springs. Each hotel has several hot spring wells. For this reason, each hotel has hot springs with different elements, so you can enjoy different types of hot springs. Qualities and efficacies are described below.
Quality
Neutral~Low alkaline saltine earth salt spring
Rich in sodium and potassiam
Temperature
33.5~77.5℃
Efficacy
<for bathing> Rheumatism, chronic dermatitis,
         neuralgic atopic dermatitis
<for drinking> chronic esogastritis, chronic hypochilia
Attractions of Awara Onsen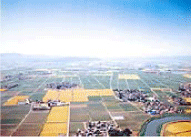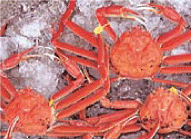 First of all, it is the "nature" Fukui Prefecture is proud of. Awara Onsen is located on Sakai Plain, a rice paddy zone, but it is near the mountains and the sea. It is located in a perfect location where it allows you to appreciate nature of both types. The next attraction is the "elegant feeling of onsen." Fancy gardens and rooms and open-air spas make you feel your fine experience is one or two ranks higher.
And finally, the "food" is delicious. There are so many varieties of food including fresh seafood from the Japan Sea and rice harvested from Sakai Plain (did you know that Koshihikari, a variety of rice, was originated in Fukui?).
The king of them all is the representative winter dish called "Echizen crab." Boiled crab is tasty, but toasted crab and sliced raw crab are delicious, too! Enjoying "rich nature" and "an elegant feeling of onsen," and tasting "Echizen crab." The prices are more reasonable than before. No other experience can be more extravagant!
City flower,tree and bird of Awara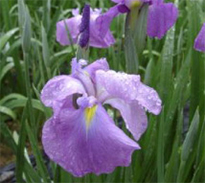 City flower: Japanese Iris
The Japanese Iris is an iridaceous perennial and represents Japan's traditional garden plants. In June at the Kitagata Lake Japanese Iris Garden, 200,000 Japanese Iris of 300 types vie in beauty and entertain the visitors. The flower language is "patience," "gentle heart," and "elegant heart," and could also mean "please come." This flower was selected with hopes for many people to visit Awara City.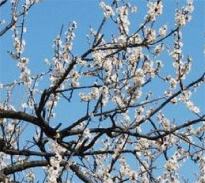 City tree: Japanese Plum
The Japanese Plum can be seen all around the city in the gardens, as bonsai, and as a fruit tree. Its fruit has been traditionally used a health food and is essential to Japanese cuisine. Its charming flowers which mark the beginning of spring are familiar to everyone. It was selected with hopes that Awara City would be loved not only by the citizens but also by people from various areas.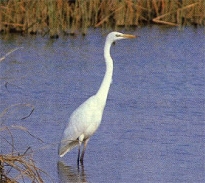 City bird: Egret
The egret, a water bird, nests in various areas of Kitagata Lake and Takeda River. The egret is the most beautiful of all herons, and its lady-like appearance can be seen in waterfronts and rice paddies in the city.
The egret was selected for its symbolism for co-existence with nature and humans, and its soaring image in the sky can be associated with images of Awara City's road to the future.