Tourist sports and Local products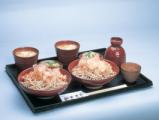 Echizen Oroshi Soba Noodle
This dish is made from a unique soup, into which is first put grated daikon radish (daikon oroshi), (unlike most dishes, which get served soup and daikon oroshi separately) and firm dark brown soba noodles. The combination of the sweet taste of delicious fragrant soba noodles and the sharpness of grated daikon radish make this meal exquisite. The name 'Echizen Oroshi Soba' is believed to come from the Showa emperor who called it 'That Echizen Soba' after he visited the town of Takefu in this region and tasted the dish.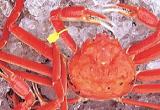 Echizen Gani (Crab)
It is often said that this is the king of winter food. The male crab is called 'Zuwai' and female is called 'Seiko', and they inhabit the coast of the Sea of Japan. Fishermen catch them using a dragnet and take them back fresh without freezing. These crab are sold at auction fish markets and shipped to Fukui, Kanazawa and even to the Kyoto area.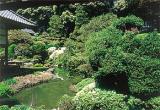 Takidanji Temple
Built in 1375, it is the oldest temple in Mikuni Town. It includes many national treasures and important cultural properties. "Sansui-teien", a form of landscape garden developed in those days, especially attracts visitors.
〒913-0054 Takidani, Mikuni Town, Sakai City
TEL. 0776-82-0216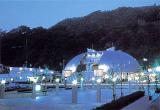 Echizen Crab Museum
Entering a dome set in a landscape in the shape of a crab, you can find a display that enables you to learn everything about Echizen crabs, an "Experiencing" zone, and a "Study" zone where you can study the biology and ecology of fish and shellfish. Structures such as the three-layer vaulted diorama that features life 300m under the sea, a 3D theater, and a huge robot Echizen crab, promise you an interesting visit. You can also enjoy a tasty crab meal at the museum restaurant.
〒916-0422 Kuriya, Echizen Town
TEL. 0778-37-2626
FAX. 0778-37-0624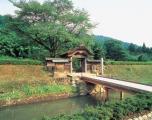 Ichijodani Asakura Clan Ruins
The Ichijodani Asakura Clan Ruins are the ruins of the castle town of five warring lords of the Asakura Family who ruled Echizen for 103 years. The grand castle town was founded 530 years ago in 1471 and developed a graceful culture, with the peak population exceeding 10,000. However, when the Asakura Family was defeated by Oda Nobunaga in 1573, the town was burned and its long history came to an end. In 1967, excavation and research started in earnest, uncovering the shape of the whole town, including a house belonging to the lord, samurai residences, temples, houses of merchants, houses of craft workers and streets. In 1991, four gardens in the ruin were designated as "National Special Places of Scenic Beauty".
〒910-2153 Kidonouchi-cho, Fukui City
TEL. 0776-41-2330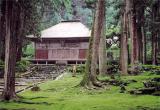 Heisen-ji Hakusan Shrine
From ancient times to the latter part of the medieval period, this place was influential as the basis of Hakusan beliefs. After the legal order to separate Shinto and Buddhist identity in Meiji period, this place became a shrine instead of a temple. The precincts of this shrine are magnificent, filled with hundreds of old Japanese cedar trees covered by green moss.
〒911-0822 Heisen-ji Town, Katsuyama City
TEL. 0779-88-1591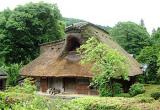 Senko-no-ie
Built in the early Edo period, this residence is noted for being the oldest private house existing in Fukui Prefecture. Its building structure, with a front of semi-gabled roofs, a backside of hipped roofs thatched with grass, walls covered with cedar bark, and white paper doors, shows the clean and neat beauty of the house.It is designated as a nationally important cultural property.
〒910-0205 Kamitakeda, Maruoka Town, Sakai City
TEL. 0776-67-2111
FAX. 0776-67-3118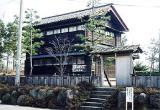 Genkuro Fujino Memorial Hall
This memorial hall, originally the house of Genkuro Fujino in Mikuni town, was donated by his family in 1983 to commemorate the establishment of a sister town relationship between Awara town and Shaoxing city, Zhejiang province in China. The building was reconstructed in a new location in 1984, the year of the 100th anniversary of the Awara Onsen discovery, and named Genkuro Fujino Memorial Hall. The hall exhibits documents about the connection between Dr Fujimoto, an anatomical professor at Sendai Medical training school (currently a medical department at Tohoku University) and a Chinese student, later known as Luxan.
〒910-4105 Funatsu, Awara City
TEL. 0776-77-3331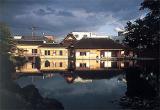 Yokokan Garden
Yokokan Garden used to be a mansion of the Matsudaira family, lords of Fukui Domain. The garden is located 400 meters north of the Fukui Castle (now Fukui Castle Ruins). The graceful shoin-style building and the magnificent garden are great examples of Edo Period garden architecture. The Yokokan Garden was highly praised in the Journal of Japanese Gardening, an American specialty publication, for its marvelous construction, the affinity between the building and the water, the beauty of its irrigation, and the view of the pond from inside the building. It was ranked seventh in the Journal's "2007 Japanese Garden Ranking".
〒910-0004 Hoei, Fukui City
TEL. 0776-21-2906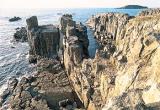 Tojinbo Cliffs
Tojimbo features magnificent pillar-shaped rocks created by sea erosion. Extending for about 1 km, it commands an impressive view, standing gallantly against the raging waves of the Sea of Japan. Such a gigantic columnar jointing of pyroxene andesite can only be seen at this place throughout Japan. Owing to this geologically rare phenomenon, Tojimbo is designated as a natural monument of scenic beauty.
Anto, Mikuni Town, Sakai City
TEL. 0776-82-3111

Ichijo Fall
Ichijo fall is about 12 meters high and is located upstream of Ichijo River, which runs through the Asakura Clan Ruins. A smaller fall, known as Medaki, is also in the vicinity and is about 5 meters high. The area is surrounded by well-wooded valleys and the mountain atmosphere is fresh and cool even in summer. Ichijo Fall has a legend about Kojiro Sasaki, who dueled with Musashi Miyamoto at Ganryu Island. According to the legend, Kojiro practiced ascetic exercises at the Ichijo fall and came up with the legendary technique of swordplay, "Tsubame Gaeshi".
Jokyoji Town, Fukui City
TEL. 0776-20-5346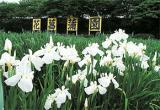 Kitagata Lakeside Iris Garden
This iris garden is situated on the shore of Lake Kitagata and known as one of the major iris gardens of Japan. About 500,000 irises of 300 kinds come into blossom from late May and usually stay in bloom for about one month.Also, Kitagata Lakeside Iris Festival will be held in late June.
〒910-4272 Kitagata, Awara City
TEL. 0776-73-8029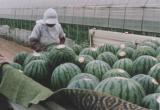 Fukui Suika (Watermelon)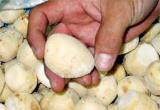 Satoimo (Aroid)
This vegetable has been grown mainly in Ono city and Katsuyama city within the Okuetsu region, which has been famous for great quality water since the Edo period. The satoimo, which harvested and shipped from this region, is known by the peculiar sweet taste and the firm body that does not melt away when it is boiled.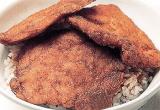 Sauce Katsu-Don
Typical Japanese Katsu-Don (pork cutlet rice bowl) is made from a deep-fried cutlet bounded together with egg. In Fukui, however, the most popular Katsu-Don is the one with a deep fried cutlet flavored with sauce. A piping hot fried cutlet is quickly dipped with Worcester sauce-based secret seasoning and put on a seasoned rice bowl.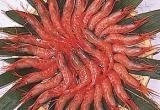 Amaebi Shrimp
t is said that these clear reddish shrimp will melt in your mouth with a sweet sensation when served raw, as sashimi. Like Echizen Crabs, the Amaebi Shrimp is one of the Japanese people's favourite winter fruits from the sea. These shrimp are taken from offshore and are then taken directly to the fish market, keeping their freshness and flavour. They are delicious with a hint of sweetness when eaten as sashimi accompanied with soy sauce and wasabi horseradish.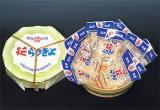 Hana Rakkyo
The rakkyo, or shallot, is famous for its three-year growing period before it gets harvested from the dune area of Sanrihama beach facing the Sea of Japan. The main selling point of this small shallot is its firmness with fine fibre and a fresh crisp taste. The Hana Rakkyo is processed by cutting the top and roots and pickling. It can be bought nationwide in Japan.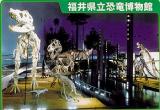 Fukui Dinosaur Museum
This museum has a fossil information center that is the basis for international dinosaur study, transmitting and receiving study data from throughout the world. There is also a Field Museum, which offers on-site training for everyone to enjoy. This place is full of the mystery and discovery of dinosaurs.One of the three largest dinosaur museums in the world.
〒911-8601 Terao,Muraoka Town , Katsuyama City
TEL. 0779-88-0001
FAX. 0779-88-8700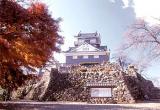 Echizen Ono Castle
This castle was built in four years by Nagachika Kanamori who was given two thirds of the land in the Ono area by Nobunaga Oda in 1575. There are the two "donjons" or towers. The larger tower has two levels in a three story building and the smaller tower has two levels in a two story building. These towers are also surrounded by two protective walls and by inside and outside moats to protect the castle effectively. The stone walls, built by a special method piling the stone sideways with the big stones pushed behind, are classed as one of the most precious historic places. The present Ono castle was rebuilt in 1968 and exhibits articles left from the successive lords inside.
〒912-0087 Shiromachi, Ono City
TEL. 0779-66-0234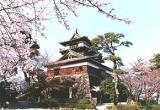 Maruoka Castle
Maruoka Castle boasts Japan's oldest castle tower and is also known as "Kasumiga-jo"(Mist Castle). In 1576, at the command of Oda Nobunaga, Shibata Katsuie had his nephew Katsutoyo build this castle for protection against riots. Four-periods after, it was used as a home castle by Tokugawa feudal lords, Honda and Arima, until the end of Edo Period.
〒910-0231 Kasumimachi, Maruoka Town, Sakai City
TEL. 0776-66-0303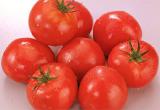 Koshi no Ruby (Tomato)
This shiny and bright red coloured tomato, which you can imagine from its name, was created by biotechnology, combining large tomatoes and miniature tomatoes. Koshi no Ruby is a medium sized tomato with a full sweetness and a moderate sourness that makes you feel as if you are eating a piece of fruit. It contains 1.5 times more vitamin C than a large tomato and 7 to 8 brix of sugar content, which is 2 to 3 brix more than a large tomato. This nutritious and tasty tomato is now attracting much attention.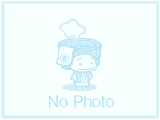 Eiheiji Temple
This education and training center for Zen monks was founded by Zen Master Dogen Zenji about 750 years ago in the Kangen Period, in 1244. Located approximately 16 kilometers southeast of Fukui city, more than 70 large and small structures are still standing, with seven main buildings at the center of the temple. The temple precincts are approximately 100 thousand tsubo (330,000 sq.m.), surrounded by old trees, some of which are said to be about 680 years old. The stillness and quietness of the temple makes it an ideal and perfect place for trainee monks.
〒910-1294 Shihi, Eiheiji Town
TEL. 0776-63-3102